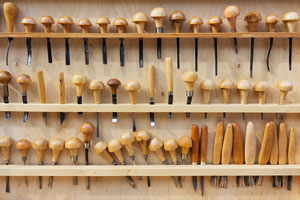 Wood carving tools are made from high-carbon steel. The steel may be drop forged or hammer forged to create the metal parts of the tool blade, shank, shoulder, and tang. Hammer forging is considered the better method because the grain structure within the metal is finer and stronger. The cutting blade is then heated to temper and harden it to optimum hardness. The remaining shank, shoulder, and tang are made softer so they will have more resilience.

Wood carving tools can be purchased handled or un-handled. Factory-made handles from a given manufacturer are usually all the same shape, varying only in size. It is convenient to have a tool arrive sharpened and handled. But a handle that is custom-made by the carver is more comfortable to hold. This personal attention may affect how the woodcarver carves.

The wood carving tool makers listed on this page offer a broad spectrum of tools for amateur and professional woodcarvers.
Wood Carving Tool Manufacturers
---
Copyright © Wood-Carving-Tools.com. All rights reserved.

Wood Carving Toolmakers